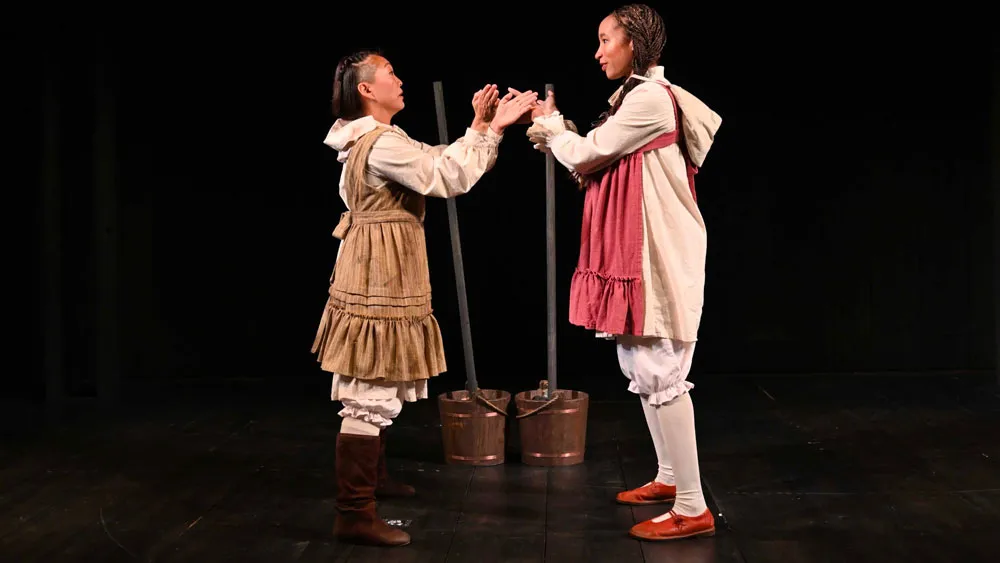 Review: 'The Good John Proctor' Explores Salem Witch Trials (and 'The Crucible') from a Different Perspective
Trinity Repertory Company is kicking off their 60th season with two Salem witch trial themed shows; the first of which, "The Good John Proctor" arrives first. The play will run in repertory with Sarah Ruhl's "Becky Nurse of Salem" through November 12.
"The Good John Proctor" is touted as being a prequel to Arthur Miller's 1953 play "The Crucible," in which the titular character is the protagonist. In reality, Proctor was a Massachusetts landowner whose third wife Elizabeth was accused of witchcraft. When he stood up for her, he was also accused.
Talene Monahon's new take on what happened in Salem nearly four centuries ago premiered at the New York theater company Bedlam last Spring. The company had earlier revived Miller's play in a strikingly realized rethinking. But unlike "The Crucible," Proctor is never seen, only referenced.
Instead Monahon has four girls – pivotal to "The Crucible" -- come together in one-act. Deanna Myers plays Abigail Williams, a teenager whose accusations set the witch trials in motion in Miller's drama. Joining her is Rebecca-Anne Whittaker who plays her younger confidante Betty Paris; Lori Vega as the mischievous, cider-drinking Mercy Lewis; and Rachael Warren as Mary Warren, an epileptic orphan who befriends the youngest girls. (All are characters in "The Crucible") Taking the young ladies' point of view, playwright and actress Monohon imbues her story with subtlety about witchcraft, friendship and early American life as women in the 1600s.
Cousins Abigail and Betty share a bed and stories as they work for Proctor on his farm, musing about the ever present woods flanking the property and vowing never to go in as "evil" makes its home there. Meeting Mary for the first time, they are both witnesses to one of her epileptic fits and are frightened of the savage event. Nonetheless they take her into their confidence as a friend. Mary is a free spirit who isn't afraid to take chances and eventually the trio explore the woods. Monohon allows her girls to utilize modern colloquialisms (including popular crude euphanisms) as a way to show their youthful status and to give her play a contemporary slant. Mercy swears frequently as does Betty and they both speak as perhaps young girls do today.
As always, Warren is exceedingly watchable, and Myers is delightful as the wide eyed youngster Warren's once to watch. Paris perhaps has the toughest job of all (I won't reveal why) but her journey is the wildest of all three of them, culminating in a reveal that gives a sense of wonder at the production's climax. Vega is loud and brash, capturing her character's flaws effectively. Kimberly Senior directs this unusual examination of pre-Salem witch trials; deftly weaving the narrative around a muted set piece by Michael McGarty that is also not without surprises. Kudos to sound designer Joanna Lynne Staub for bringing a sense of impending doom along with some inspired modern musical bits. An unusual night of theater? Where else but Trinity Rep!
"The Good John Proctor" is running in a rotating repertory with "Becky Nurse of Salem" through November 12th at Trinity Repertory Company 201 Washington Street, Providence, RI 02903. For information or tickets, call 401-351-4242 or visit www.trinityrep.com.
---