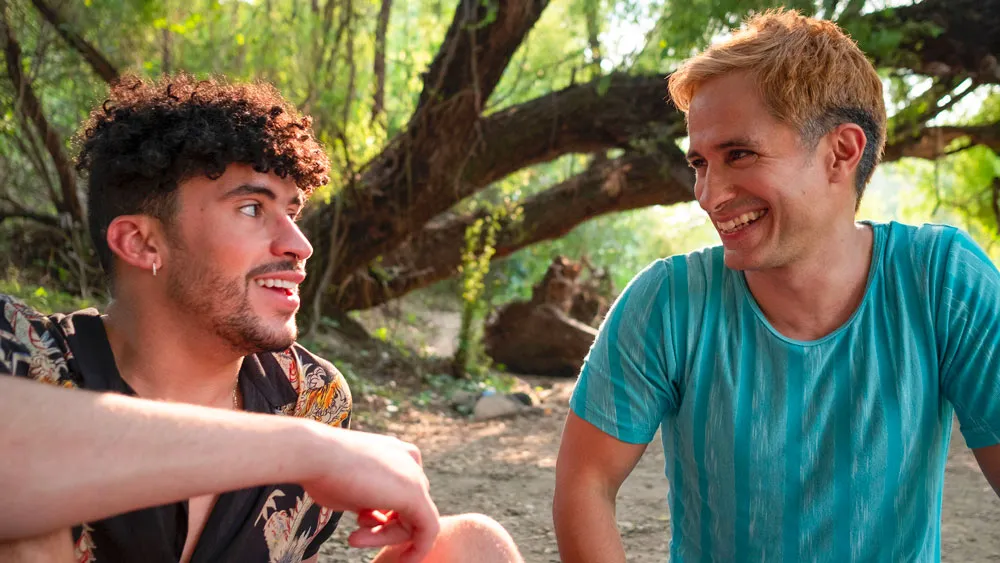 Watch: Is That Bad Bunny Kissing Gael García Bernal in 'Cassandro?'
In the film "Cassandro," currently in limited release and scheduled for streaming on Amazon Prime on September 22, there is one moment that is getting considerable media attention.
That is because one of music's biggest superstars Bad Bunny locks lips with the film's star, Gael García Bernal, who plays Saúl Armendáriz, the real-life gay lucha libre wrestler whose story is told in Marie Losier's film.
Bad Bunny plays Felipe, who, according to Entertainment Weekly, is "a drug dealer who's introduced to the wrestler by his new promoter. All the while, Felipe has played it coy with the attention, giving small hints that he might be interested but doesn't pursue in any way his own curiosities. But when Saúl finally decides to make his move (thanks, in part, to the persuasion of some substances), Felipe reciprocates...until he quickly stops Saúl and gently pushes him away."
"It's okay, don't worry. Don't freak out," Saúl calmly assures Felipe. "I'm sorry. See you around, stud."
But, EW continued, while his character may be conflicted about the kiss, Bad Bunny was not.
"He took the job seriously," wrote Time Magazine in a profile of the singer. "If you're acting, you're being someone you're not," he says. "So when they asked me for that, I said, 'Yes, I'm here for whatever you want.' I think it was very cool; I didn't feel uncomfortable."
"My first kiss for a movie and it was with a man," he told Time laughing. "That's the penalty I get for being with so many women during my life."
"Benito is part of a rising generation of male pop stars challenging stereotypical masculine ideals. He has kissed a male dancer onstage, appeared in drag, and declared that his heterosexuality does not define him. He used a 2020 appearance on 'The Tonight Show' to call attention to the murder of a transgender woman, Alexa Negrón Luciano, in Puerto Rico. This month, he will receive GLAAD's Vanguard Award for his LGBTQ allyship," continued Time.
Watch the kiss below:
---