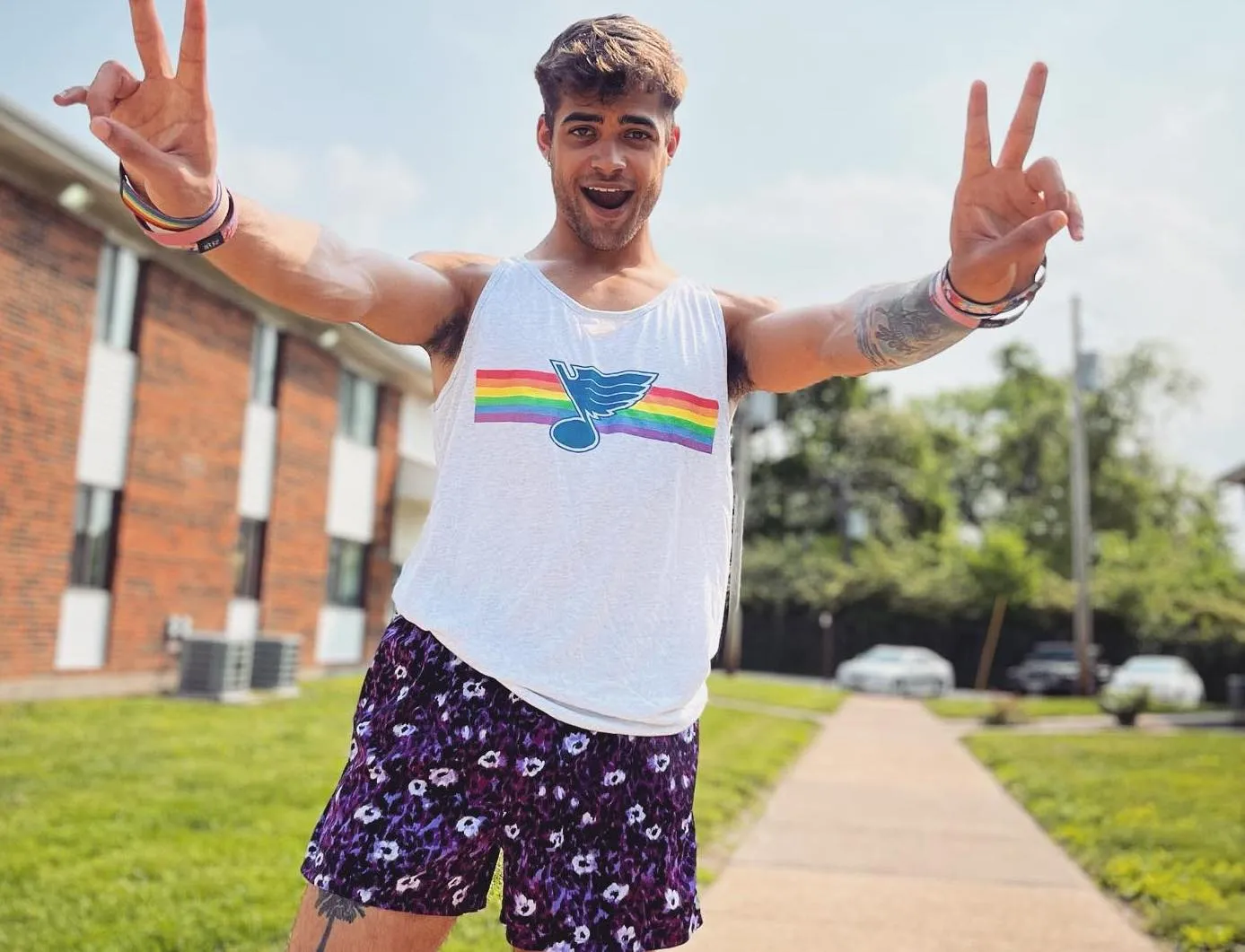 9 Insta-Reasons We Love Out Athlete Jake Bain
We often focus on the activism and courage of LGBTQ+ professional athletes. This isn't surprising, as higher levels of competition lead to more fame and celebrity status. Sometimes, though, the most inspiration comes from those who aren't famous.
Typical high school athletes have the chance to show the world that anyone can be a hero, and that's exactly what Jake Bain did in 2017. Heading into his time at Indiana State University, Bain had everything to lose if he came out, but his strong demeanor and fearlessness led to national fame and viral success. Bain appeared on "The Ellen DeGeneres Show" after coming out as LGBTQ+, and now that his football career is over, he's moved into various ventures such as modeling and activism. Let's get to know Jake Bain a little better with a look at his IG.
Bain is from St. Louis, Missouri, and it looks like he's sticking close to his roots for his very first house on his own. Bain shows pride in becoming a homeowner in Ferguson, showing off his toned physique, tattoos, and vascular arms in the sunshine of the Midwest in July of 2023. And no, we didn't miss his adorable pooch in the background of the photo. Looks like Bain is creating a nice, intimate place to live for his boyfriend and himself.
Bain proudly wishes his boyfriend a happy anniversary after two years of dating. Photos of Bain giving him flowers made people in the comments section reminisce on their own gay dating history and how long they've known the love of their lives. Seeing queer couples not only surviving but thriving is something we always want to see more of on social media and in real life.
Becoming so famous at such a young age took a toll on Bain's mental health, and he's been open about the anxiety and depression he's experienced throughout his young adult years. Even though he looks happy and healthy on social media, Bain admits that it's always vital to talk to loved ones and friends about the state of your inner turmoil. Bain is seen sporting a "you are not alone" shirt to encourage everyone to open up about the topics in life that give you the most trouble. There is always a light at the end of the tunnel if you search for it.
Bain proudly puts us in a time machine by painting a picture of his coming out process back during his junior and senior years of high school. He discusses how football served as both a shield and eventually a burden in his LGBTQ+ journey, and how sports can mend your wounds or stop you from living your truest self because of images you want to uphold. This double-edged sword is an internal battle queer athletes live with every day, and Bain lets us know that being authentic with yourself and others is always the best way to live to the fullest and enjoy yourself.
Bain's biggest moment in the spotlight came when Ellen DeGeneres invited him onto her talk show. Bain used this platform to tell his story, and here he thanks DeGeneres for giving him such a special opportunity to inspire others.
Bain congratulated openly gay United States Secretary of Transportation Pete Buttigieg in January 2021, making sure to recognize the progress that has been made for queer people in politics and the path forward that people like Buttigieg are still carving.
Bain used to have a lot more thirst-worthy content on his Instagram, but most of the photos have been taken off his page. One of the last remaining shots is this gorgeous endorsement of crop top season, showing off Bain's toned abs and fit legs. Hopefully, Bain will get back to giving us more sexy photoshoots.
Bain shows support for his hometown hockey team, the St. Louis Blues, on Pride Night in this post from June 2020. Shoutout to the Blues for giving Bain the platform to show his Pride during the queerest month of the year.
Bain shows the baseball version of the previous post, throwing out the first pitch for the St. Louis Cardinals in June 2019. The MLB has had some controversies surrounding Pride in recent years, especially in June 2023 with the Los Angeles Dodgers and the Sisters of Perpetual Indulgence.
---