Gay Las Vegas: The Latest
The sky over San Francisco brightened up to welcome 6,000+ people to this year's Women's March. Community activists from every minority group came out to support women across the US!
M. Night Shyamalan scored his fifth No. 1 movie as the director's "Glass," while not quite the blockbuster some expected, nevertheless dominated Martin Luther King Jr. holiday weekend at the box office with $40.6 million in ticket sales.
President Donald Trump's lawyer Rudy Giuliani left open Sunday the possibility that Trump and former personal attorney Michael Cohen might have discussed Cohen's congressional testimony.
A major winter storm brought some of the coldest temperatures of the season and covered a large swath of the country in snow as it wreaked havoc on air travel and caused slick road conditions throughout New England Sunday.
The late founder of the Dead Poets Society of America can be inducted to the society of fallen bards now that he's now a published poet.
The Oscars race may have gotten a little clearer Saturday night as the race-themed road trip drama "Green Book" drove off with the top honor at the Producers Guild Awards, winning out over presumed front-runners like "Roma" and ''A Star Is Born."
Justin Timberlake has pulled some sunshine from his pocket for the patients at a Texas children's hospital.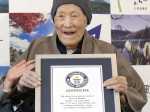 The world's oldest man has died at his home — a hot springs inn — in northern Japan at the age of 113.
A diocese in Kentucky apologized Saturday after videos emerged showing students from a Catholic boys' high school mocking Native Americans outside the Lincoln Memorial after a rally in Washington.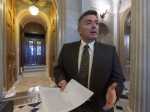 Republican Sen. Cory Gardner helped mastermind the GOP's midterm strategy of pushing Senate candidates closer to President Donald Trump.
In a bid to break the shutdown stalemate, President Donald Trump offered to extend temporary protections for young people brought to the U.S. illegally as children and those fleeing disaster zones in exchange for his long-promised border wall.
Time Magazine offered Lily Tomlin its cover with the tag line, "Yep, I'm Gay" in 1975. She refused.
Using no-strings-attached student loan payoff-assistance programs, college loan alternatives and annual student debt letters, these three universities are doing their part to curb college debt.
For the past 290 million years, large asteroids have been crashing into Earth more than twice as often as they did in the previous 700 million years, according to a new study in Thursday's journal Science.
Challenging the Trump administration on a top consumer issue, leading congressional liberals are proposing legislation that would radically reduce U.S. prescription drug bills by linking prices to lower costs in other countries.
Some new 2019 vehicles offer shoppers a way to get both all-wheel drive and great fuel economy.
Take a look at the latest menswear fashions from Paris.
Tens of thousands of embryos are stuck in limbo in fertility clinics, leftovers from pregnancy attempts and broken dreams of parenthood.
A major winter storm that has brought some of the coldest temperatures of the season covered a large swath of the U.S. in snow as it wreaked havoc on air travel and caused slick road conditions throughout New England Sunday.

The 20th edition of the GLAM Awards celebrated the best of NYC nightlife. Hosted by Ru Paul's Drag Race's Bob The Drag Queen and Peppermint, this was a night full of amazing performances, camaraderie and so much creativity!