1 thru 10 of 6929 Stories
A gay man who is proud to support President Donald Trump spoke with San Francisco's KRON4 news station about waring his red "Make America Great Again" hat in the Castro, the city's gay neighborhood.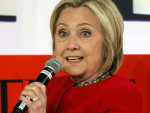 Some Democrats are putting up caution signs for Hillary Clinton as she wades into presidential politics by casting 2020 candidate Tulsi Gabbard as a "Russian asset," mocking Trump's dealings with a foreign leader and drawing counterattacks from both.
Prime Minister Justin Trudeau won a second term in Canada's national elections Monday, losing the majority but delivering unexpectedly strong results despite having been weakened by a series of scandals that tarnished his image as a liberal icon.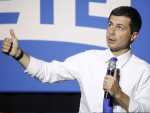 Pete Buttigieg is returning campaign contributions from a former Chicago city attorney who led a vigorous effort to block the release of a video depicting the shooting of Laquan McDonald.
The shout of "2024!" from the crowd was unmistakable. It stopped Donald Trump Jr. cold.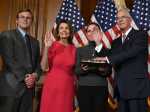 Florida Rep. Francis Rooney, one of the few Republicans openly weighing whether to impeach President Donald Trump, said Saturday he will not run for reelection.
Hillary Clinton's suggestion this past week that Hawaii Rep. Tulsi Gabbard is being "groomed" by Russians to act as a spoiler in the 2020 race may have had the opposite effect of what the 2016 Democratic presidential nominee intended.
There is no Archibald Cox or Ken Starr to be found in President Donald Trump's impeachment. So it's up to Adam Schiff to build the case.
The shifting White House explanation for President Donald Trump's decision to withhold military aid from Ukraine drew alarm Friday from Republicans as the impeachment inquiry brought a new test of their alliance.
Three years of simmering frustration inside the State Department is boiling over on Capitol Hill as a parade of current and former diplomats testify to their concerns about the Trump administration's unorthodox policy toward Ukraine.
1 thru 10 of 6929 Stories