Former 'Conversion Therapy' Practitioner: It's Not for Me After All, but You All Go On and Try It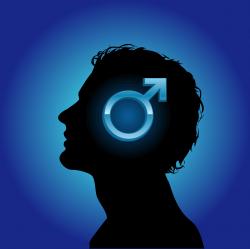 Dave Matheson, one of the country's foremost practitioners of so-called "conversion therapy," has a message: The practice, which reputable mental health professional decry as both ineffectual and damaging, doesn't work, or at least didn't work for him, so he's now going to live openly and authentically as a gay man.
But, he adds, don't let that stop you from trying the bogus "cure" if you've bought into the idea that you shouldn't be gay.
That's the upshot of a new expose from "conversion therapy"-busting group Truth Wins Out, which reported on a Facebook posting in which it was announced that Matheson had come to the conclusion that, having given up on the straight life, being celibate and single "just isn't feasible for him, so he's seeking a male partner."
This from the man who co-created a program called "Journey Into Manhood," a program that was famously reported on by a straight writer who endured it and then wrote an expose.
Truth Wins Out promptly contacted Matheson to get his personal commentary on the jaw-dropping 180-degree spin. What Matheson told them caused even more head scratching.
"My time in a straight marriage and in the 'ex-gay' world was genuine and sincere and a rich blessing to me," Matheson told Truth Wins Out, the group reported at its website. "I remember most of it with fondness and gratitude for the joy and growth it caused in me and many others.
"But I had stopped growing and was starting to die," Matheson continued. "So I've embarked on a new life-giving path that has already started a whole new growth process."
Matheson's words seemingly carry no recognition that the basic premise of "conversion therapy" is that gays can be "cured" of their sexual orientation and turned straight — a myth that feeds into the dangerous and oft-repeated lie that being gay is "a choice." That lie, in turn, is a cornerstone of arguments by anti-LGBTQ groups that seek punitive laws and policies designed to curtail the personal liberties, individual freedoms, and family rights of LGBT Americans.
Indeed, Matheson essentially doubled down on the contradiction, insisting on the value of a "therapy" he was admitting had held zero transformative effect on his own innate sexuality.
"I wasn't faking it all those years," Matheson — who, Patheos noted, used to charge a hefty $240 per session for his "conversion" treatments and even authored a book based on the idea that gays are not "whole" as men — continued. "I'm not renouncing my past work... And I'm not condemning mixed-orientation marriages. I continue to support the rights of individuals to choose how they will respond to their sexual attractions and identity. With that freedom, I am now choosing to pursue life as a gay man."
The fact remains that those seeking to impose "conversion therapy" — on children as well as adults — demonstrate little respect for individual choice, even where choice is genuinely possible (such as choosing to live authentically, or not to lie to women and trick them into marriages with gay men). One such organization, Liberty Counsel, has launched an attempt to roll back state laws banning "conversion therapy" on minors. Liberty Counsel - which is designated a hate group by the Southern Poverty Law Center - is the same organization that represented former Kentucky country clerk Kim Davis in court after Davis refused to issue marriage licenses to same-sex couples. The hate group also filed an amicus brief in the case of "Masterpiece Cake" baker Jack Phillips, who won a very narrowly defined Supreme Court victory and saw the decisions against him by lower courts thrown out after he defied Colorado state nondiscrimination laws and refused service to same-sex couples seeking wedding cakes.
But Liberty Counsel's opposition to LGBTQ equality before the law isn't limited to the marriage arena, and the group is not shy about trying to influence the nation's theoretically secular laws. Recently, the group spoke out against a that enjoyed unanimous support in the United States Senate... for the simple reason that the bill's protections extended to LGBTQ Americans. When an outcry erupted the group claimed that its opposition arose from such specifications supposedly acting to limit the law's potential scope.
Wayne Besen the founder and director of Truth Wins Out, called out Matheson in no uncertain terms, stating, "If conversion therapy does not work for authors like David Matheson who write books on the discredited practice, it is naïve to expect it to work for those reading such deceptive publications."
Besen went on to add, "Conversion therapy employs guilt and shame to browbeat desperate and vulnerable people into renouncing their humanity. This is the latest evidence that conversion therapy is consumer fraud and ought to be outlawed in all 50 states."
Kilian Melloy serves as EDGE Media Network's Assistant Arts Editor. He also reviews theater for WBUR. His professional memberships include the National Lesbian & Gay Journalists Association, the Boston Online Film Critics Association, The Gay and Lesbian Entertainment Critics Association, and the Boston Theater Critics Association's Elliot Norton Awards Committee.
Comments on Facebook