Gay Las Vegas: The Latest
LGBTQ+ advocate and out pop star Miley Cyrus is reaching out to rapper DaBaby amid his ongoing controversy around anti-gay comments he recently made, which cost him several live gigs at music festivals, including Lollapalooza and the Governors Ball.
American Olympic diver Jordan Windle — dubbed "Little Louganis" for the famed out athlete who mentored him — is ready for his shot at Olympic gold, and his gay dad will be cheering him on.
Most Broadway stages may still be dark, but there's a place in Times Square where the costumes shine.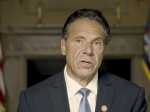 He said his actions had been misconstrued, his words misunderstood. He said it was cultural: He hugs, he kisses, he says "Ciao, bella." He said it was generational: Sometimes he lapses into "honey" or "sweetheart" or tells bad jokes.
In 2020, before covid vaccines, most major private insurers waived patient payments — from coinsurance to deductibles — for covid treatment. But many if not most have allowed that policy to lapse.
The Biden administration is taking the first steps toward requiring nearly all foreign visitors to the U.S. to be vaccinated for the coronavirus, a White House official said.
Some of the summer hires on the Mediterranean party island of Ibiza are different this year: they include private detectives posing as tourists who tip off police about illegal parties during the COVID-19 pandemic.
Since the start of the pandemic, a constantly changing and confusing web of travel restrictions have separated loved ones around the world.
Sons and daughters, sisters and brothers of prominent musicians have long shared their own talents. Our music columnist offers a few new bests.
Trans equality advocate Shai Vanderpump, 23, was shot and killed in Trenton, New Jersey on July 30. Her murder was the 32nd known incident of deadly anti-trans violence this year.
The out boxer dedicated her silver Olympic medal to her country, her coaches and to LGBTQ people.
Expect a major player from "And Just Like That," the "Sex and the City" reboot, to be killed off on the first episode of the new HBO Max series.
Spirit Airlines canceled nearly half its schedule for Tuesday, the third straight day of extremely high cancellation numbers at the budget airline.
Despite the social distancing of the past 18 months, the use of dating apps in general has surged as people sought connections amid their isolation and dating apps are responding by rolling out new features.
The tattered myth that gays are generally better off than their heterosexual peers took another hit with a new study that reconfirms gay and bisexual men earn less than straight men do.
The Biden administration wants automakers to raise gas mileage and cut tailpipe pollution between now and model year 2026.

Celebrity dermatologist Dr. Alex Khadavi was arrested and booked for felony criminal threats. The arrest came as a result of a homophobic rant that Khadavi made in a posh LA condo lobby on July 7.
President Joe Biden's administration drew up a strategy to contain one coronavirus strain, then another showed up that's much more contagious.
One of Provincetown's most anticipated theme weeks of the season returns August 15-21 as the Provincetown Business Guild (PBG) announces the schedule for the 42nd annual Carnival.
Lollapalooza returned to Chicago in Grant Park to celebrate 30 years as a music festival. LGBTQIA+ representation was not only in the crowd, but the performers as well.