Gay Las Vegas: The Latest
Police say a convict in Houston, Texas used Grindr to lure a gay man, intending to rob him but killing him instead. The suspect has been charged with capital murder.
COVID might have shut down the Great White Way, but Ben Platt, the Tony-winning star of "Dear Evan Hansen," proved that his stage skills are staying sharp with a TikTok rendition of "No Good Deed" from "Wicked."
Britain plans to use its presidency of the Group of Seven economic powers to push for an internationally recognized system of vaccine passports that could allow world travel to resume.
It seems many Americans who are stuck staring at their walls have decided the pandemic gives them a good reason to pretty them up.
When Khadijah Ameen and her fellow health activists gather in community groups in Atlanta, everyone is in a circle. It connects to their central message: Achieving a society in which all Black lives matter means Black health must matter, too.
Years and Years frontman Olly Alexander has proven his chops as an actor with the Russell T. Davies miniseries "It's A Sin" - and he's also impressed Elton John, who likened Alexander to the late Freddie Mercury.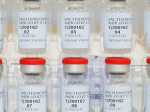 Johnson & Johnson's single-dose vaccine protects against COVID-19, according to an analysis by U.S. regulators Wednesday that sets the stage for a final decision on a new and easier-to-use shot to help tame the pandemic.
The Biden administration has withdrawn government support for a federal lawsuit in Connecticut that seeks to ban transgender athletes from participating in girls' high school sports.
On a TV show Betty White hosted 50 years ago, the perpetual charmer flirts with James Brolin, teases Della Reese and trades quips with Carol Burnett.
Tiger Woods crashed his SUV on sweeping, downhill road in the Los Angels suburbs Tuesday morning, and doctors tried to stabilize "significant" injuries to his right leg with rods and a combination of screws and pins.
The Southern Baptist Convention's executive committee voted Tuesday to oust four of its churches, two over policies deemed to be too inclusive of LGBTQ people.
Nancy Wilson, of legendary Seattle rock band Heart, has announced a May 7 release date for her first solo studio album, "You and Me."
Manhattan District Attorney Cyrus R. Vance Jr. fought for a year and a half to get access to former President Donald Trump's tax records.
Chanel is taking advantage of the latest AI technology with a groundbreaking new app that will assist users in finding that right shade of lipstick.
As owners are forced to shut businesses, they've had to figure out what to do next. For many entrepreneurs, the answer has been anticipating the next trend and creating a company to take advantage of it.
On the surface, getting out of a car lease isn't difficult. It's the potential financial penalties for doing so that are the issue. Minimizing this financial fallout is key.
Because pets are family too, Paw CBD offers award-winning CBD products for cats and dogs.
How does Auston King stay in shape? Besides all the effort it takes to try on jockstraps, he's also practicing yoga.
Some 90 minutes into a routine meeting of the Grand Traverse County board, its agenda packed with mundane topics such as roads and libraries, came a surprising seven seconds that drew the kind of national attention no local government wants.
British police have fined dozens of people for breaking coronavirus restrictions after officers found 150 guests packed into an illegal nightclub in England over the weekend.