Topics :: Las Vegas
HustlaBall Las Vegas was held over MLK weekend with many events including the Real World Suite Party at the Hard Rock Hotel and the main event Kamasutra at the Artisan Boutique Hotel.
Las Vegas hosted the Sin City Classic over MLK weekend. Over 8,000 athletes came from around the United States to compete in twenty-four different sports throughout Las Vegas. A great time was had enjoying sports during the day and partying at night.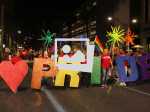 Downtown Las Vegas celebrated its largest Pride yet, with a fabulous nighttime parade and a day and a half of festival fun.
The Park MGM offers an urban oasis that integrates coveted dining venues, A-list entertainment, and a museum-worthy art collection into the typical slot machine dings and rolling dice found along the Las Vegas Strip.
MGM resorts kicked off pool season with the 10th anniversary of Temptation Sundays at the Luxor Resort on the Las Vegas Strip. The steamy weather brought out hot bodies and cool drinks as everyone enjoyed hanging out at the Oasis pool next to the pyramid.
Las Vegas is rolling out the rainbow carpet this year with signature events, including the tenth anniversary of Temptation Sundays at Luxor, as well as Pride, Dining Out For Life, and Bigger Vegas.
The campaign's cultural storylines reinforce the destinations's identity as the paramount purveyor of adult freedom and encourages visitors to embrace unique only-in-Vegas moments of self-truth.
Returning to Las Vegas for the second consecutive year, ClexaCon is a unique kind of media and entertainment convention for LGBTQ women and allies.
The agency responsible for promoting Las Vegas says preliminary numbers show that fewer people visited the destination in 2017.
The official slogan of Las Vegas is back by popular demand three months after it was paused following the mass shooting that rattled the city.