1 thru 15 of 7980 Stories
Facebook has removed nearly 200 social media accounts linked to white supremacy groups that planned to encourage members to attend protests over police killings of black people — in some cases with weapons.
Reddit co-founder Alexis Ohanian announced his resignation from the board of the social media site and urged the board to replace him with a black candidate.
SpaceX's debut astronaut launch is the biggest, most visible opening shot yet in NASA's grand plan for commercializing Earth's backyard.
Twitter has blocked a Trump campaign video tribute to George Floyd over a copyright claim, in a move that adds to tensions between the social media platform and the U.S. president.
Google said state-backed hackers have targeted the campaigns of both President Donald Trump and former Vice President Joe Biden, although it saw no evidence that the phishing attempts were successful.
Lost jobs over social media statements that seemed like a good idea at the time have become a common occurrence.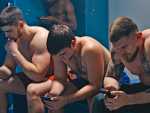 The company that owns the gay dating apps Scruff and Jack'd announced this week that it will be removing the "ethnicity filters" from both platforms in order to show support for the Black Lives Matter movement.
Mayor Jim Kenney kicked off a recent briefing on Philadelphia's coronavirus response with an unusual request for residents: Be careful what you flush.
To kick off Pride Month, the KindRED Pride Foundation announces two events on June 6: The RED Shirt Challenge, and a 12-Hour Virtual Celebration.
Zoom Video Communications is rapidly emerging as the latest internet gold mine as millions of people flock to its conferencing service.
Facebook CEO Mark Zuckerberg isn't budging over his refusal to take action on inflammatory posts by President Donald Trump that spread misinformation about voting by mail.
Social media has lit up with false rumors that antifa is transporting people to wreak havoc on small cities. The claims appear to be coming from white supremacist groups.
Though Black Out Tuesday was originally organized by the music community, the social media world also went dark in support of the Black Lives Matter movement, joining voices around the world outraged by the killings of black people in the U.S.
Medically assisted deaths in America are increasingly taking place online, from the initial doctor's visit to the ingestion of life-ending medications.
People with the virus can be contagious without a fever, so it's still important for employers to increase space between workers, disinfect surfaces and encourage hand washing.
1 thru 15 of 7980 Stories