1 thru 10 of 30044 Stories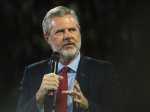 Disgraced Evangelical conservative Jerry Falwell Jr. allegedly fell and injured himself while drunk inside his home the week after news broke of his and wife Becki's extramarital affair with a pool boy.
Five years after the U.S. Supreme Court legalized same-sex marriages around the U.S., more than a half million households are made up of married same-sex couples, according to figures the U.S. Census Bureau released Thursday.
The parents of two toddlers featured in a doctored pro-Trump video — including the same-sex parents of one of the boys — are suing the president, his campaign, and the man who altered the original video.
Convicted on hate crimes charges, a Miami man has been sentenced to two years in prison for assaulting and yelling homophobic slurs at two gay men.
Who or what are many people likely to dress up as for Halloween 2020? The "Karen" is looking to be this year's most popular costume.
The lapses leave officials and the public in the dark about the true scope of the pandemic as untold numbers of cases go uncounted.
A whole new rainbow-colored universe is about to open up on your browser with the advent of the ".gay" domain extension.
People in Oregon, Washington state and California have been struggling for a week or longer under some of the most unhealthy air on the planet. The acrid yellow-green smog may linger for days or weeks.
The city of Louisville will pay $12 million to the family of Breonna Taylor and reform police practices as part of a lawsuit settlement months after Taylor's slaying by police thrust the Black woman's name to the forefront of a national reckoning on race.
Dancing with the Stars, Chris Evans' Avenger and is Essex expecting golden showers? Check out this week's Slightly Used News.
1 thru 10 of 30044 Stories