Gay Las Vegas: The Latest
After one of his colleague's withheld his positive COVID-19 status for week, out Pennsylvania pol Brian Sims lashed back.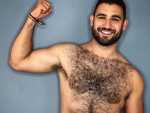 When Mr. Gay World 2020 had to be put off to next year, the plan was for first runner-up from 2019 to serve an interim term. Then an ironic twist emerged - one with a heroic tinge.
Kathy Griffin has charged back into controversy with a wisecrack about a "Syringe with nothing but air inside it" — seemingly, her prescription for the current president.
A Connecticut policy that allows transgender athletes to compete in girls sports violates the civil rights of female athletes, the U.S. Education Department's Office for Civil Rights has ruled.
Counting COVID deaths and cases has been turned into a battle of semantics, chance, bureaucracy, politics and immediate circumstance, rather than science.
A Polish prosecutor has charged an IKEA manager with violating the religious rights of an employee sacked for voicing strong objections, within the company, to a corporate event supporting tolerance for LGBT people last year.
Someone grab the smelling salts! Anti-LGBTQ group One Million Moms has noticed that Pixar has made a gay-themed short film called "Out" that's streaming now at Disney+.
Time never softened the urgency of Larry Kramer's demands.
President Donald Trump is preparing to sign an executive order Thursday aimed at curbing liability protections for social media companies, two days after he lashed out at Twitter for applying fact checks to two of his tweets.
Less than a week after releasing a B-sides completion of her 2019 album "Dedicated," Carly Rae Jepsen said she's already made another full-length album while in quarantine.
The president of the International Committee of the Red Cross said it has recorded 208 COVID-19-related attacks against health workers and installations in 13 countries since March.
Ruby Rose is finally speaking out on her surprising decision to leave the lead role in "Batwoman" after its first season ended.
Even with companies calling some laid-off employees back to work, millions more likely filed for unemployment benefits last week.
The U.S. surpassed a jarring milestone Wednesday in the coronavirus pandemic: 100,000 deaths. That number is the best estimate and most assuredly an undercount.
Hospitals around the country are afraid to send out hundreds of thousands of bills related to COVID-19 testing. That's because Congress mandated there would be no copays and no out-of-pocket costs for patients. But who's paying?
Spain's government says that Japanese carmaker Nissan Motor Co. has decided to close its manufacturing plants in the northeastern Catalonia region.
Levi's has released its latest Pride collection, adopting "Use Your Voice!" as a rallying cry, stating that this year's collection is all about maximizing self-expression.
The U.S. suicide rate has been increasing for decades. In 1999, the rate was about 10 suicides per 100,000 people. In 2017, it was just over 14 per 100,000 — a rise of 40% in only 18 years.
MGM Resorts International has announced its planned June 4 reopening of Bellagio, New York-New York, MGM Grand Las Vegas and The Signature.
The Stud, San Francisco's oldest continuously-operating LGBT club, will be closing its doors permanently, according to a news release from Honey Mahogany, a co-owner of the South of Market establishment.