On the EDGE
Cymbiotika founder Chervin Jafarieh shares ways to achieve optimal physical, mental, and spiritual health.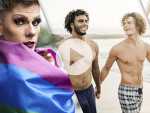 Ready to pack your weekender — better yet, a full-size suitcase? The travel industry is ready for a rebound, and who better to share thoughts about where and when to travel than some of our favorite LGBTQ travel companies?
Ready to step out in style this spring? EDGE chats with luxury menswear designer Que Shebley about his bespoke brand, Q by Qs in our new Facebook Live series 'On the EDGE.'
Kristen Kish, "Top Chef" season 10 winner and co-host of the new truTV series "Fast Foodies," joins EDGE to chat about her latest TV endeavor, where she's once again battling it out in the kitchen.