"We have a community whose members are making a voting plan," says one expert. "LGBTQ and trans women are more likely to vote by mail than straight women, and more LGBTQ women plan to vote overall."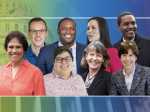 "Now that it's October, people are even more attentive, and LGBTQ voters, in particular, should find motivation to vote in their own best interests," says Sean Meloy, senior political director at the LGBTQ Victory Fund.
LGBTQ History Month is having a much broader impact in Illinois this year, thanks to a new law that mandates the teaching of LGBTQ heritage in public schools across the state.
A new national survey from The Trevor Project reveals alarming statistics regarding mental health and suicide rates of LGBTQ youth. Does it get better? It depends on who you ask.
Despite an overall decrease in HIV infection rates, the rates for Hispanic/Latino men who have sex with men are more than four times that of white males. EDGE finds out why.
A new study reveals that sexual minority adults experience homelessness nearly three times that of the general population. This is their story.
RuPaul famously tells her cover girls to let their whole bodies talk. But in the time since her ascension to self-proclaimed supermodel of the world, whose bodies are allowed in the conversation has become a strong point of contention.
The long road to citizenship, hindered by a broken American immigration system strongly stacked against LGBTQ émigrés, has become increasingly hostile under the Trump administration.
For LGBTQ immigrants already living tremendously marginalized and precarious lives, the deadly pandemic is adding even more layers of danger and uncertainty.
"We've definitely seen homophobic, heteronormative and racist values seep into AI," says Lesbians Who Tech Founder Leanne Pittsford. Find out how in EDGE's latest investigative feature.