Dozens of vaccine candidates are in various testing stages around the world, with 11 in the last stage of preapproval clinical trials. One or more may prove safe and effective and enter the market in the coming months. What then?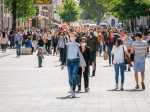 A big part of the reason adherence has been so variable is that governors generally declare the mandates, and local and city officials are left to decide how to enforce them.
"If you believe 22% is herd immunity, I believe you're alone in that," Dr. Anthony Fauci recently told a senator. All this talk got us thinking: What exactly does it mean and can it be used to combat COVID-19?
Body aches, sore throat, fever, cough, shortness of breath, fatigue and headaches are symptoms shared by the two, but there are a couple of major difference to be on the lookout for.
According to one expert, it's likely that not just one but several of the competing COVID-19 vaccines will be shown to be safe and effective by the end of 2020. But which one should you receive, if any?
The study starting Wednesday will be one of the world's largest coronavirus vaccine studies so far, testing the shot in 60,000 volunteers in the U.S., South Africa, Argentina, Brazil, Chile, Colombia, Mexico and Peru.
If the executive branch were to overrule the FDA's scientific judgment, a vaccine of limited efficacy and, worse, unknown side effects could be rushed to market.
The fitness industry has begun to push back at the pandemic-driven perceptions and prohibitions. "We should not be lumped with bars and restaurants," says an executive from the International Health, Racquet & Sportsclub Association.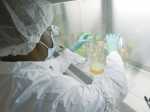 A drug company says that partial results from a study testing an antibody drug give hints that it may help keep mild to moderately ill COVID-19 patients from needing to be hospitalized, a goal no current coronavirus medicine has been able to meet.
Facilities already strapped for testing supplies and personal protective equipment must first rule out COVID-19 in these patients, because many of the symptoms they present with are the same as those caused by the virus.