The fitness industry has begun to push back at the pandemic-driven perceptions and prohibitions. "We should not be lumped with bars and restaurants," says an executive from the International Health, Racquet & Sportsclub Association.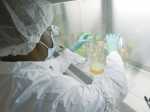 A drug company says that partial results from a study testing an antibody drug give hints that it may help keep mild to moderately ill COVID-19 patients from needing to be hospitalized, a goal no current coronavirus medicine has been able to meet.
Facilities already strapped for testing supplies and personal protective equipment must first rule out COVID-19 in these patients, because many of the symptoms they present with are the same as those caused by the virus.
On March 13 a COVID curtain descended upon the United States, and a new season of pandemic was born. Now we are half a year into it — accustomed in some ways, resistant in others, grieving at what is gone, wondering with great trepidation what will be.
In the absence of reliable data, we decided to ask the experts about the possibility of contracting the virus while on a flight.
The U.S. Centers for Disease Control and Prevention says hand sanitizers should be at least 60% ethyl alcohol or 70% isopropyl alcohol.
Apple and Google are trying to get more U.S. states to adopt their phone-based approach for tracing and curbing the spread of the coronavirus by building more of the necessary technology directly into phone software.
The size of a credit card, the self-contained test is based on the same technology used to test for the flu, strep throat and other infections.
In a world of effective antibiotics and antivirals and other treatments, deaths or even serious illnesses from infectious disease seem nearly incomprehensible. So our fear is enormous, and our risk tolerance for exposure is just about zero.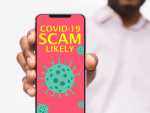 State officials and federal agencies warn there's a new phone scam circulating: Some callers posing as COVID-19 contact tracers try to pry credit card or bank account information from unsuspecting victims.