Review: The Force is with 'The LEGO Star Wars: Holiday Special'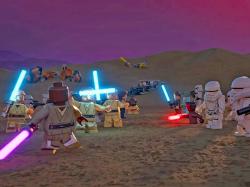 A long time ago...

(...in the late 1970s to be precise)

In order to satisfy an eager audience that was waiting on pins and needles for the next installment in the epic franchise, "The Star Wars Holiday Special" premiered in primetime. Although it introduced the fanbase to the notorious bounty hunter Boba Fett and revealed that Chewbacca, Han Solo's Wookie co-pilot, had a family, it ultimately fell short of feeling spectacular and became something of an inside joke among diehard fans. It did have several redeeming qualities that have endeared it, though, especially to the most loyal fans of the George Lucas space opera epic.

Several franchise installments and spin-offs later, Disney+ returns to the heart and spirit of the first holiday special with a fully-retooled adventure in a pleasantly presented style that everyone can get behind. On November 17th gather up the family for the premiere of "The LEGO Star Wars Holiday Special," which reunites the heroes from the latest trilogy — Rey, Poe, and Finn — and sends them on an adventure through space and time to rebuild the galaxy in LEGO bricks!

Centered on the celebration of "Life Day" — a universal analog standing in for the holiday season — newly anointed Jedi Knight Rey is eager to immerse her friend Finn in the ways of the Force, but everyone else is distracted with the festive holiday, especially now that the First Order has been defeated. The story takes place after the last episode in the series, and is totally set in a LEGO land universe! Succumbing to her determination, Rey uncovers a magical crystal element, hidden in the Jedi text, that can help her in her quest, but it is only apparent on Life Day and only in a remote region of space.

Heading out into the unknown, Rey follows the mystery and it sends her on a wild LEGO trip through time and space in which she visits all the great masters training their young apprentices, including the Dark Lord of the Sith, Darth Vader. When Vader becomes aware of the powerful crystal, the Sith Lord has every intention to make it his own, and the two get tossed through different eras of the "Star Wars" universe, even crossing paths with a certain adorable "Baby Yoda." Will Rey be able to wrestle this new power away from Darth Vader in time to rejoin her friends for Life Day? You'll have to tune in to find out, and the Force will be with you!


"LEGO Star Wars Christmas Special" begins streaming on Disney+ on November 17th.
Native New Yorker JC Alvarez is a pop-culture enthusiast and the nightlife chronicler of the club scene and its celebrity denizens from coast-to-coast. He is the on-air host of the nationally syndicated radio show "Out Loud & Live!" and is also on the panel of the local-access talk show "Talking About".
Comments on Facebook