1 thru 10 of 5456 Stories
The co-creator of "Pose" is spilling some major tea about the third season of the FX drama.
Noah Purvis joined the cast of CBS's reality dating show "Love Island" last night. Missing from his bio is his appearances in three same-sex videos this past year.
The second season of Hulu's wonderful comedy "PEN15," which stars Maya Erskine and Anna Konkle playing preteens in the early 00s, is quite an achievement and one of the best shows of 2020.
The creators of "Where the Bears Are" have a new confection that will cheer up your COVID blues - a web sitcom titled (what else?) "That Darn Corona!" EDGE chatted with married couple Ben Zook and Joe Dietl.
Emmy host Jimmy Kimmel and an alpaca sharing the spotlight. Winners accepting at home in designer pajamas or maybe yoga pants. More than 100 chances for a balky internet connection to bring Sunday's ceremony to a crashing halt.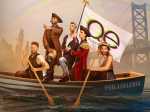 Saudi Arabia has allowed Netflix to stream LGBTQ-centric series "Queer Eye" and "Orange is the New Black" over what Netflix Co-CEO Reed Hastings as a "troubling compromise."
In Ryan Murphy's new Netflix series "Ratched," the producer attempts to give the twisted nurse from "One Flew Over the Cuckoo's Nest," here played by Sarah Paulson, an origin story but serves up mostly over-the-top drama.
Two of television's most popular queer shows — "Queer Eye" and "RuPaul's Drag Race" have scored this week at the Creative Arts Emmy Awards.
Jude Law and Naomi Harris star in HBO's "The Third Day" a meditative and slow-moving series about a mysterious British island that's all too familiar.
Three years after the success of "Call Me By Your Name," out filmmaker Luca Guadagninio heads to the small screen for the vibrant and queer coming-of-age series "We Are Who We Are."
1 thru 10 of 5456 Stories