Review: Pass The Kleenex for 'Tu Me Manques'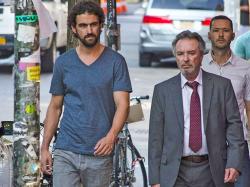 Bolivian filmmaker Rodrigo Bellott's third feature, "Tu Me Manques," is probably the saddest coming-out story that we have ever watched. It's the tale of 20-something-year-old Gabriel (Jose Duran), who settles in NY because he feels he could never be the son that his ultra-religious family in Bolivia expects him to be.
The story starts with the arrival of Jorge (Oscar Martínez), his father, who comes to NY after Gabriel suddenly takes his own life. Totally unaware of his son's sexuality, Jorge's grief quickly turns into anger once he discovers the truth - and most of that anger is aimed at Sebastian (Fernando Barbosa), who Gabriel had recently broken up.
Sebastian has no idea of Gabriel's passing, and even though he has his own grief to deal with he tries to defuse Jorge's bitterness. By introducing Jorge to many of the gay men who were an important part of Gabriel's life, he hopes to be able to show Jorge his son's true self.
In his lifetime, Gabriel had been petrified of discovering the truth of his sexuality, so much so that he had denied it even to himself until he had met Sebastian. His deeply religious mother had maybe suspected it and hinted that her recently-diagnosed cancer was God's way of punishing her because of Gabriel.
Bellot chooses to tell the tale in a layered manner that mixes the telling of Gabriel's life with a drama that Sebastian has penned, and also with the reality of Jorge's NY search.
It's a powerful drama that reiterates the harm created, whether intended or not, when parents impose their ideals on their children without any regard to their nature or own feelings. Sadly this too-familiar tale will resound loudly with many LGBTQ people who have suffered similar pressure growing up, and even worse end up taking their own lives.
Bellot strikes a balance that doesn't take the easy way out by making the parents appear as the demons of the piece, and this dovetails with the compelling performances of Martinez and Barbosa as they eventually unite in grief.
The campy performance of TJ (Tommy Heleringer), one of Gabriel's friends, adds a touch of much-needed levity, and the inclusion of the fabulous Rossy de Palma in the cast is a welcome addition too.
"Tu Me Manques" (which means "I Miss You") started life as a stage play in Bolivia, which caused such a stir that actually started a national conversation about anti-discrimination laws and homophobia. With so much interest, it was only natural that Bellot would go on to adapt it into a film.
This is one of those sad stories that make for an unmissable movie but be sure to take a very large box of Kleenex with you.
- - -
"Tu Me Manques" will be presented by FilmOut San Diego & Eventive April 22-25, 2021. Click Here To Preorder
Roger Walker-Dack, a passionate cinephile, is a freelance writer, critic and broadcaster and the author/editor of three blogs. He divides his time between Miami Beach and Provincetown.
Comments on Facebook