Watch: Elton John Stands Up to Security at Perth Show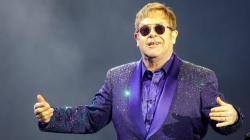 Elton John, 72, spoke out fervently when he saw two security guards at his Perth, Australia show Saturday attempting to remove a female fan from the audience. The outburst, called a "four letter tirade" by Billboard, was part of his Farewell Yellow Brick Road world tour.

"Hey, you two security guards with the girl, f— off. Let her up here immediately... come on, you c—," John snapped, according to People.com

He went on to chastise the guards further, earning him fan adulation and laughter.

"Morons, both of you, morons. You don't treat girls like that. Leave her alone, you turds!"

After the outburst, John apologized to the audience, saying he couldn't sit idly by when violence against women is a huge issue to him.

"He said he can't stand violence against women and had to say something," Today Perth presenter Louise Momber said, according to People. "He sang the next song and then immediately apologized for his rant — but said it's something he's really passionate about."

See the whole tense interaction in this Twitter video captured by user Nokternl below.





John will continue his Farewell Yellow Brick Road world tour through the end of 2020.
Comments on Facebook