Top Story
UK's Channel Four released a first-look trailer and a still from Russell T. Davies' new series "It's A Sin."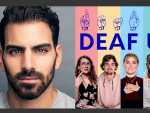 Nyle DiMarco's new show gives Gallaudet students a deaf reality show, COBRA's futuristic disaster series chills, and "First Day" introduces a trans teenager to high school life.
Halloween is synonymous with The Boulet Brothers, the LA-based duo whose "Dragula" competition show is a Netflix hit. This year they are doing something different & talk about their Shudder special, 'Dragula: Resurrection.'
British pop singer Sam Smith recently opened up about how their struggle with body dysmorphia led to coming out as non-binary last year.
Rudy Giuliani is shown with his hand down his pants after flirting with an actress playing a young woman pretending to be a television journalist in a scene in Sacha Baron Cohen's latest mockumentary, a sequel to his hit "Borat" film.
Outfest® has launched
Outfest Now
, a year-round, always-on destination to meet the increasing demands for fresh storytelling with new perspectives within the LGBTQIA+ community.