Top Story
Gloria Vanderbilt, the intrepid heiress, artist and romantic, died Monday at the age of 95.
1 thru 10 of 48564 Stories
An Alabama mayor and city leaders refused to acknowledge questions on the mayor's statements about "killing out" gay and transgender people at a city council meeting.
It was a mini crime wave, reportedly carried out over a span of approximately 75 minutes by teenagers as young as 15. Among their victims: A gay couple who say they were targeted for a savage beating because of their sexuality.
Vegan bacon, broccoli rice and other veggie foods will need new names to stay on Louisiana's grocery store shelves next year.
Israel Folau might have wrecked his sports career with repeated instances of anti-LGBTQ rhetoric, but he might have a nascent career as a homophobic preacher already underway if his latest blast from the pulpit at LGBTQs is any indication.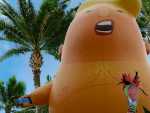 Opponents of President Donald Trump's reelection announcement in Florida on Tuesday are launching their protests at a nearby gay bar where a mariachi band and a drag queen will perform in what they say is a juxtaposition of the president's policies.
Alabama authorities say a 24-year-old Birmingham man has pleaded guilty to murder and attempted murder of victims he targeted because they were transgender.
Australia's path to the Women's World Cup was turbulent even before its upset loss in the opening round.
Lawyers for the families of children and adults killed at Sandy Hook Elementary School disclosed Monday that child pornography was found in electronic files sent to them by conspiracy theorist Infowars host Alex Jones.
As Trump mounts his bid for reelection, he is offering himself as the outsider once again — but it's a much more awkward pitch to make from inside the Oval Office.
Author Nicholas Sparks has responded to the disparaging emails which released as part of a lawsuit he is facing as Chair of the Board at a school he co-founded.
1 thru 10 of 48564 Stories