South Florida Gay News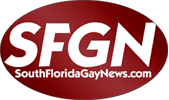 The South Florida Gay News.com celebrates the lives of South Floridians with daily news briefs and storied features, breaking news and lifestyle profiles. Check out their website at southfloridagaynews.com.
Trump wouldn't recognize pride month, but that won't stop members of the Senate.
The Trevor Project, an organization created to prevent suicide in the LGBT community, has been receiving an increase in suicide hotline calls following the presidential election.
College Choice released this year's top 50 colleges for LGBT students - and only one Florida school made the list.
Though Chick-fil-A claimed to have turned away from anti-LGBT politics five years ago, their continued support of a number of anti-LGBT organizations suggests the opposite.
It's all about who you know or, as in the new book "The Art of the Affair" by Catherine Lacy and Forsyth Harmon, it's who you've dallied with.
The Trump administration has restored sexual orientation to the National Survey of Older Americans Act. But gender identity is still missing and SAGE is demanding transgender individuals be put back in.
What do you get when you mash up "Fifty Shades of Grey" with "Sesame Street"? The answer would be "Fifty Shades of Felt," the parody opening on July 20 at Empire Stage in Fort Lauderdale.
A Christian TV channel in Russia is offering to pay for LGBT people to get out of the country forever.
Following an initial vote of 4-1 in favor of enacting a ban on conversion therapy for minors earlier this month, the Wellington Village Council met again Tuesday in order to set the ban into effect, this time with a 3-2 vote.
One film student is showing a "fun, sexy and outrageously frank 21st-century sex-ed for gay adults."