Rage Monthly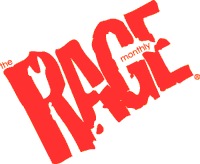 Check out Rage at ragemonthly.com.
Summer Roadtrip is the theme of this season's dineL.A., an event that highlights 300 of the city's ethnically-diverse eateries from Friday, July 14 through Friday, July 28.
Summer is upon us. It's the time of year for hitting the beach, the pool and enjoying the great outdoors. Here's The Rage Monthly's "must have" list of items to heat up your summertime fun.
Comedy and musical genius Ken Ludwig, whose "Baskerville" brought Sherlock Holmes and Mr. Watson to The Old Globe, is back with a brand new Globe-commissioned world premiere comedy about another iconic duo: Robin Hood and Little John!
Fred Schneider's voice is the distinctive sound you hear in the foreground of many of the B-52s hits. That voice speaks in this exclusive Rage Monthly interview!
The 42-year-old annual event taking place from Friday, July 14 through Sunday, July 16, has been a reflection of where we are as a community, whether addressing the early days of the AIDS epidemic or fighting for marriage equality.
Wrabel has written for everyone from Ellie Goulding to Lea Michele, Prince Royce, Adam Lambert, Will Young, Phillip Phillips, Katharine McPhee and Pentatonix.
A lesbian from North Carolina returns home to wed and asks her late mother's best friend to bake one of her legendary cakes for the wedding...
Nearly 200 LGBTQ short and feature-length films from around the world will be screened during Outfest 2017. That would be a lot of celluloid if movies were still released in non-digital formats.
Based on the 1928 Broadway hit, with book by masters George S. Kaufman and Morrie Ryskind, "Animal Crackers" is the hallmark of the Marx Brothers' lunacy.
While transgender people frequently seek out surgeries so their physical bodies match their gender identity, people who are intersex often have to protect themselves from well-meaning physicians who try to "normalize" their gonads and genitals.