Top Story
Openly gay Democratic 2020 hopeful Pete Buttigieg stood strong in the face of attacks from the Christian right during a May 22 Q&A event, declaring he does have things to repent fo...
1 thru 10 of 48175 Stories
Just in time for Pride Month in June...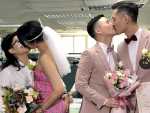 Hundreds of same-sex couples in Taiwan rushed to get married Friday, the first day a landmark decision that legalized same-sex marriage took effect.
A majority in Brazil's supreme court has voted to make homophobia and transphobia crimes like racism, a decision coming amid fears the country's far-right president will roll back LGBT social gains.
One of Jussie Smollett's conditions after posting $10,000 bail amid charges he lied about being the victim of a racist, anti-gay attack was that he have no contact with two brothers police say he paid to help stage the incident.
After some conservative Alabama probate judges stopped issuing marriage licenses over the issue of same-sex marriage, state lawmakers have come up with a workaround: marriage certificates that don't have to be signed before the wedding by the judge.
Sen. Elizabeth Warren calls Betsy DeVos the "worst secretary of education we've seen." Sen. Amy Klobuchar says DeVos "shouldn't be in her job." Beto O'Rourke's take on DeVos: "We can do better."
Sometimes even the president of the United States needs somebody to vouch for him.
Theresa May announced Friday that she will step down as U.K. Conservative Party leader on June 7, admitting defeat in her attempt to take Britain out of the European Union and sparking a contest to become the country's next prime minister.
Premiere queer global streaming network Revry presents QueerX, the 4th annual queer music, film, and industry festival, takes place from May 31st to June 2nd in West Hollywood, California, sponsored by Lexus.
A judge in Chicago has ordered the file in the Jussie Smollett criminal case unsealed.
1 thru 10 of 48175 Stories