Gay Las Vegas: The Latest
President Donald Trump was seething.
Indiana Mayor Pete Buttigieg (BOO'-tuh-juhj) is the latest Democratic presidential candidate to agree to hold a town hall meeting on Fox News Channel.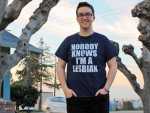 In response to finding anti-gay flyers around McCormick Junior High in Cheyenne, Wy., administrators have decided to ban all things LGBTQ related, including rainbow Pride flags and clothing.
Two brothers who say they helped Jussie Smollett stage a racist and homophobic attack against himself filed a lawsuit Tuesday against the "Empire" actor's attorneys.
Kristen Porter Presents Dyke Night® hosts LUSH: the official Womxn Pride Party, the longest running most award-winning womxn pride party in the city. LUSH takes place on June 8, 9 pm to 2 am at ICON Nightclub, 100 Warrenton St., Boston, MA.
If elected in the 2020 elections, Dan Baer would represent Colorado as the first openly gay man to be elected to the Senate.
Swish Ally Fund celebrated its fifth year supporting LGBTQ organizations with Songs in the Key of Equality, a benefit concert at Le Poisson Rouge.
Pregnant women, young men and teens are all part of the rapidly growing number of syphilis patients coming to the Choices Medical Services clinic in the rural southwestern corner of Missouri.
You don't normally think of women needing testosterone and men needing estrogen. But when those levels drop for women and men, respectively, a wide range of symptoms may be suffered.
Whether you're headed to NYC for WorldPride or another iconic locale to celebrate and commemorate the 50th anniversary of the Stonewall Riots, you need a plan. We turned to our travel expert friends at Orbitz for insider tips on what not to miss.
Get swole, prepare a bug-out bag, grab a go-cup and maybe you'll have a better chance of surviving the omnicide.
A quirky Japanese tale about family.
It's not the first time Argentines have sought shelter in Europe in times of economic uncertainty. Hundreds of thousands emigrated to the old continent to escape hyperinflation in the early 1990s and an economic meltdown in 2001 and 2002.

The block on social media including Facebook and its WhatsApp and Instagram services was announced by the Sri Lankan government's official news portal, which cited the spread of misinformation online.
Don't let any of these myths prevent you from making the most of available travel rewards.
Tesla CEO Elon Musk expects to start converting the company's electric cars into fully self-driving vehicles next year as part of an audacious plan to create a network of robotic taxis to compete against Uber and other ride-hailing services.
Take advantage of fresh, seasonal produce for light and healthy recipes. With 11 ingredients you can make a variety of meals throughout the week including chia pudding, spring rolls, matcha lattes, macro bowls and vibrant spring salads.
Brain death is difficult to conceptualize, as it is a less visible form of death. And isn't it so much easier to believe what we can see?
A Kansas couple is turning the concept of covered wagons that pioneers once used to journey west into a luxury experience for campers who want to enjoy nature without sacrificing the comforts of electricity and spacious beds.
Organizers of the LGBTQ+ events during Gay Disney — KindRED Pride Foundation, Girls in Wonderland, One Magical Weekend, and Tidal Wave Party - will provide buy one get one free (BOGO) event tickets to members of the LGBTQ military and veteran community.