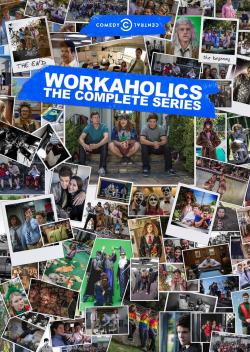 WORKAHOLICS: THE COMPLETE SERIES

Out Now!

Enjoy all seven seasons of Adam, Blake and Ders' exploits in one complete set.

Includes TONS of special features:

Season 1
Cast Interviews
Deleted Scenes
Digital Originals
Alternate Takes
Live at Bonnaroo
Extended Catherine Zeta-Jones Song
Extended Ders Rap
First Look Trailer
Shart Stories

Season 2
Audio Commentary
Bloopers
Alternate Takes & Deleted Scenes
Behind the Scenes in the Writers' Room

Season 3
Bloopers
Alternate Takes
"My Queen" Music Video
The Other Cubicle Episodes

Season 4
Outtakes
Deleted and Alternate Scenes
Promos for Season 4

Season 5
Bloopers
Deleted Scenes
Dolph Lundgren Tribute
DeMamp Camp Vol. 2
#FreeTheButtCheeks
Season 5 trailer
Behind the Scenes of the Workaholics Season 5 Trailer
Drugs on Season 5
Acting vs. Writing

Season 6
Deleted Scenes
Bloopers

Season 7
Deleted Scenes
Outtakes
"The Last Shot"
"Wrap Reel"

Enter to win!
Enter this contest
If you already have an account with EDGE, all you need to do is log in; we'll pull your address information from your account and simply ask you to verify it. If you do not yet have an account with us, register now! It's easy and free, and you'll never have to type in your personal information again. If you prefer to enter this information manually, you can use the manual entry link below.
Register
Manual Entry
Click here for contest rules.
* Please be aware that creating multiple accounts for the same person will disqualify you.