Is it any surprise that there is drama on the set of the "Beverly Hills, 90210" reboot?
A number of controversies have put network television on the defensive as they look forward to next season.
"The Big Bang Theory" closed out its run as television's top-rated comedy with an emotional final episode that saw some big changes for the show's group of geeky misfits.
Female power rules in the CW's new fall TV series, with heroes including teenage detective Nancy Drew and Batwoman.
Not everyone is celebrating the inclusion of a gay character on the long-running PBS show "Arthur."
With "The Big Bang Theory" ending after 12 seasons, viewers can comfort themselves with reruns. The cast has those — and residuals— but not the reassuring workplace rhythm and camaraderie.
Democrat Elizabeth Warren is saying no to a televised town hall on Fox News, slamming the network as "a hate-for-profit racket that gives a megaphone to racists and conspiracists."
CBS defended its decision to renew the drama series "Bull" after settling a sexual harassment claim against its star Michael Weatherly, saying the actor "owned" and apologized for his on-set behavior toward actress Eliza Dushku.
"Arthur" started its 22nd season this week with a wedding episode in which popular teacher Mr. Ratburn got married... to his male life partner.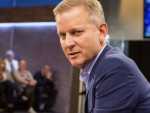 British broadcaster ITV on Wednesday canceled a popular, long-running daytime reality show after the death of a guest who failed a lie-detector test during a recording.