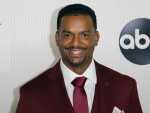 "The Fresh Prince of Bel-Air" star Alfonso Ribeiro has been denied a copyright for the "Carlton" dance, which he's suing two videogame makers over.
Detectives are interviewing two "persons of interest" who surveillance photos show were in the area of downtown Chicago where "Empire" actor Jussie Smollett said he was attacked last month, police said Thursday.
"Empire" actor Jussie Smollett has responded to critics who question his report about being attacked in downtown Chicago last month, saying it was "ridiculous" to think he would lie.
Actor Jussie Smollett says he's "pissed off" that some have doubted his claims about being attacked outside his Chicago apartment last month.
A New York Times report says seven women have claimed singer-songwriter Ryan Adams offered to help them with their music careers but then turned things sexual, and he sometimes became emotional and verbally abusive.
They are the A-listers who wow on the red carpet.
Troye Sivan is celebrating three years togehter with his boyfriend, model and photographer Jacob Bixenman.
Andy Cohen is on the cover of People magazine's newest issue, revealing the first picture of his newborn son.
"Empire" star Jussie Smollett will appear on "Good Morning America" Thursday to talk with Robin Roberts about being the victim of a possible anti-gay hate crime.
Out singer Sam Smith took to Instagram this week to open up about battling with his body image and how he deals with online fat shaming.