Watch: YouTuber Logan Paul Apologizes for 'Going Gay' Comments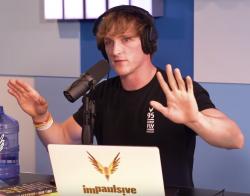 Controversial YouTuber Logan Paul is apologizing for comments he made on his podcast earlier this month in which he said he planned on "going gay" in the month of March for a New Year's resolution.

In the Tuesday episode of his "ImPaulsive" podcast, Paul invited LGBTQ activist Josh Seefried to discuss his controversial remarks.

"I made a huge mistake," Paul said. "I Don't expect to be forgiven. I'm just here to apologize."

He then asked Seefried, who founded the gay military group Outserve, if his comments "offend you personally?"

"Absolutely," Seefried responded, saying that Paul has a major influence over several kids.

"So if I want to hook up with dudes for a month in March, I can't do that?" Paul asks.

"Are you making that as a joke, or are you being legitimate? If you genuinely want to experiment with men, that's a different thing than saying, 'Hey, I'm gonna go gay for a month,' making a joke," Seefried explained.

Paul later said, "going gay is not a choice."

"That is not what I implied by saying that," he said. "That is the narrative that the media decided to run with. I've never thought that. I think who you are attracted to is innate to who you are, that it's genetic and that's that. I've thought that my whole life."

He added:

"This is important for me because I am a huge proponent of the LGBTQ community. Huge! And I always have been. I love it. I love the movement.

"I think that you've realized you had a mistake, and now it's just up to you to continue that action," Seefried said.

"Well, now I know. It's very easy, because at the end of the day, bro, it's just ignorance. It's not, again, there's no malicious intent," Paul replied.

Watch the podcast below.
Comments on Facebook