Ask those involved in self-driving vehicles when we might actually see them carrying passengers in every city, and you'll get an almost universal answer: Not anytime soon.
Federal safety officials say they want a crackdown on impaired and distracted drivers, wider use of collision-avoidance technology in cars, and tougher regulations for operators of air tours and medical flights.
German police say around 800 people have demonstrated in the southwestern city of Stuttgart against a new ban on driving older diesel cars.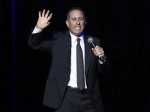 Jerry Seinfeld was sued Friday by a company claiming it bought the comedian's 1958 Porsche for $1.5 million only to discover it was a fake.
Britain's carmakers issued a stark assessment Thursday about Brexit's impact on the industry, warning Thursday that two-thirds of the country's global trade is at risk if the U.K. leaves the European Union without an agreement on future trade.
Test-driving a vehicle is a critical part of the buying process. Here's how to hack your way to a better test-drive experience.
Germany's environment minister rejected Monday calls for a halt to roadside emissions tests that found excessive air pollution and fueled fears of a widespread ban on diesel cars in cities.
Nissan Motor Co. said Monday it has received an inquiry from the U.S. Securities and Exchange Commission, suggesting investigations into dealings by its former chairman Carlos Ghosn could expand beyond Japan.
Apple is reducing the size of its workforce assigned to driverless car technology as the company reorganizes amid weakening sales of iPhones, its biggest moneymaker.
You don't complete a 7,100-mile, 48-state road trip without learning a few things, especially if you go in the grips of winter. A group of Edmunds editors made such a journey in December, in just seven days. Here are four takeaways.