Sheriffs in a dozen Washington counties say they won't enforce the state's sweeping new restrictions on semi-automatic rifles until the courts decide whether they are constitutional.
An Israeli Holocaust historian praised authorities in Finland on Sunday for publishing a report that concluded Finnish volunteers serving with Nazi Germany's Waffen-SS "very likely" took part in World War II atrocities.
Prosecutors are asking a judge to order a Massachusetts woman to begin serving her 15-month jail sentence for encouraging her suicidal boyfriend to kill himself.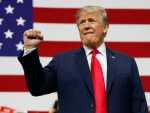 With Democrats now controlling the House and holding the legal key to seeking President Donald Trump's tax returns, Republican lawmakers are invoking privacy in defending Trump's flank.
Democrats including Rep. Alexandria Ocasio-Cortez of New York are calling for a Green New Deal intended to transform the U.S. economy to combat climate change and create thousands of jobs in renewable energy.
Last year's shooting at a Florida high school sparked a movement among a younger generation angered by gun violence and set the stage for a significant shift in America's gun politics.
A divided Supreme Court stopped Louisiana from enforcing new regulations on abortion clinics in a test of the conservative court's views on abortion rights.
The British and Irish leaders are meeting to discuss the Irish border — and mend fences — amid a tense U.K.-EU standoff over Brexit.
Filmmaker Woody Allen is suing Amazon for at least $68 million, saying that the company ended a four-picture movie deal last year after old accusations against him resurfaced in the press.
The bill approved by the committee on Thursday would allow most Oklahomans 21 and older to carry concealed or unconcealed without a license. Exceptions would include anyone in the country illegally or those convicted of certain crimes.