1 thru 10 of 3083 Stories
China on Wednesday accused the U.S. of having "weaponized" the issuance of visas following the reported inability of a top Chinese space program official to obtain permission to travel to a key conference in Washington.
A historian's quest for the truth about a gruesome mob lynching of two black couples is prompting a U.S. appeals court to consider whether federal judges can order grand jury records unsealed in decades-old cases with historical significance.
British Prime Minister Boris Johnson was weighing Wednesday whether to push for an early election or try again to pass his stalled European Union divorce deal, after Parliament blocked a fast-track plan to approve his Brexit bill.
Federal employees overseeing U.S. public lands were assaulted or threatened at least 360 times over a five-year period marked by heightened tensions with anti-government groups and dwindling ranks of law enforcement officers.
Higher education is expensive. So is gender reassignment. But a scammer hit upon a way to have both for free... sort of.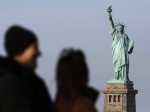 Majorities of Americans agree that diversity strengthens the country and that values such as constitutional rights, a fair judicial system and the American dream are key to the nation's identity. But the poll also reveals some striking divisions.
Florida dramatic arts teacher Monica Toro-Lisciandro says that the taxpayer-funded private Christian school where she taught a class fired her after school officials received a tip from an unknown caller that she is a lesbian.
WikiLeaks founder Julian Assange appeared in court Monday to fight extradition to the United States on charges of espionage, saying he needed more time to prepare his case.
A group representing Maine's lobstermen says it's now willing to work with the federal government on a plan to protect right whales after withdrawing its support for the plan this summer.
Hillary Clinton's scuffle with Gabbard and other recent headlines she's driven demonstrate that the 71-year-old remains a political lightning rod, just as she's been through much of the last three decades.
1 thru 10 of 3083 Stories