South Florida Gay News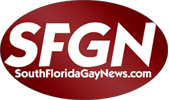 The South Florida Gay News.com celebrates the lives of South Floridians with daily news briefs and storied features, breaking news and lifestyle profiles. Check out their website at southfloridagaynews.com.
In a feature by "The New Yorker" on a possible Pence presidency and its threat to progressive ideals, a staff member from Trump's campaign revealed the president has often belittled the vice president, whose anti-LGBT views are a matter of record.
Transgender, non-binary people and their "utopia of the neutral" will make people infertile, Pope Francis claims.
Rep. Steve Scalise will give a speech to the Family Resource Center, a group against gay marriage rights. This comes despite the fact that a lesbian police officer was wounded while trying to protect Scalise from a shooter.
Teams formed in South Florida this Fall to compete and network in the Varsity Gay League sanctioned sport.
Miami-Dade County will not be joining Delray Beach, Wellington and a number of other Florida jurisdictions banning the harmful practice of gay conversion therapy.
Many things have been said and written about "Stonewall," the historic confrontation in June 1969 after a police raid at the Stonewall Inn. Some of those things are just not true. For instance...
The intersex community at large is fighting for children being able to choose their own identity - especially in the face of medically unnecessary and controversial surgeries which leave them without choice.
According to a Mississippi law that went into effect Oct. 10, government and private businesses can deny service to individuals based on their religious beliefs.
Lauren Baer has a chance to make history. If elected next fall, Baer would become the first Congresswoman in a same-sex marriage.
This past Sunday in Las Vegas marked the deadliest mass shooting in U.S. history. The shooter opened fire at a country music festival on the city's strip, killing 59 people and injuring more than 500 others.